MAC Pink Noveau is one of my favorite lipsticks, especially in the summer when I have bronzed skin!
Revlon Soft Nude lipstick got my into buying more Revlon lipsticks, because Soft Nude is almost an exact dupe to MAC's Creme De Nude. I enjoy wandering aimlessly in the Walgreens makeup aisle, and of course I couldn't leave empty handed. I picked up a Revlon lipstick in Stormy Pink.
Being the only child that I am, I couldn't wait to get home to try the product, so I sat in the Walgreens parking lot and smeared it all over my lips. I was already in LOVE and knew I had a similar lipstick. When I got back to my apartment, I went through all my lipsticks to find that...BOOM. It was a Pink Noveau dupe.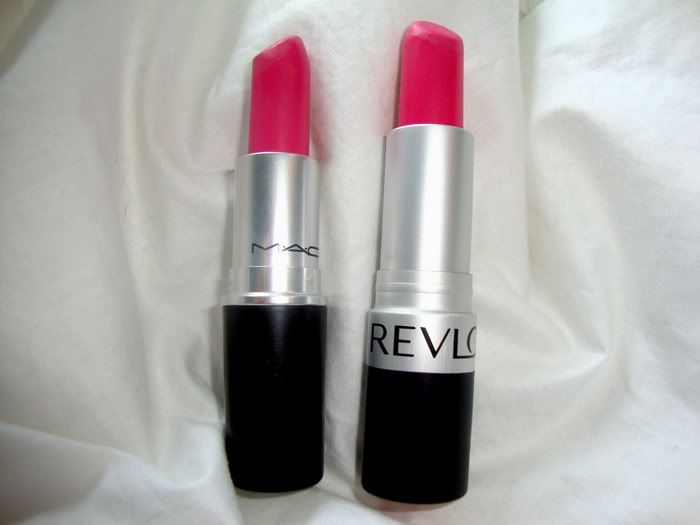 The only difference I can spot is the finish. MAC's Pink Noveau has a satin finish, which is a creamier finish. Revlon's Stormy Pink has a matte finish. If you put a clear gloss over both of these...THERE IS NO DIFFERENCE!
MAC's lipsticks are $14, while Revlon's very between $7-8 bucks depending on which drugstore you are at.
This is a must have for anyone who loves pink lipstick!